This week is all about Mortgage News. I have added a few metrics for discussion that are important to know as interest rates rise and explain how this can help indicate IF there is a buyer slowdown. Check the video link below to get all the details!
CLICK HERE TO WATCH THE VIDEO!
Text of Video:
Mortgage News
This week we will be starting out with mortgage news. Last week, the federal reserve not only raised interest rates by a quarter of a percent, but they also indicated that they will continue to raise rates, and possibly with bigger jumps over the next couple of years. The mortgage industry reacted very fast and while 4 weeks ago, the interest rates were still in the mid 3%, as of this morning, the average rate is 4.42 percent.
This marks a 30% jump in rates in just one month. This jump raises a monthly payment of about $350 per million borrowed, from $4700 to $5050, since the beginning of the month.
With this shift in rates, if you are still looking to buy, I would highly recommend talking to your loan officer ASAP to re-qualify at these new rates.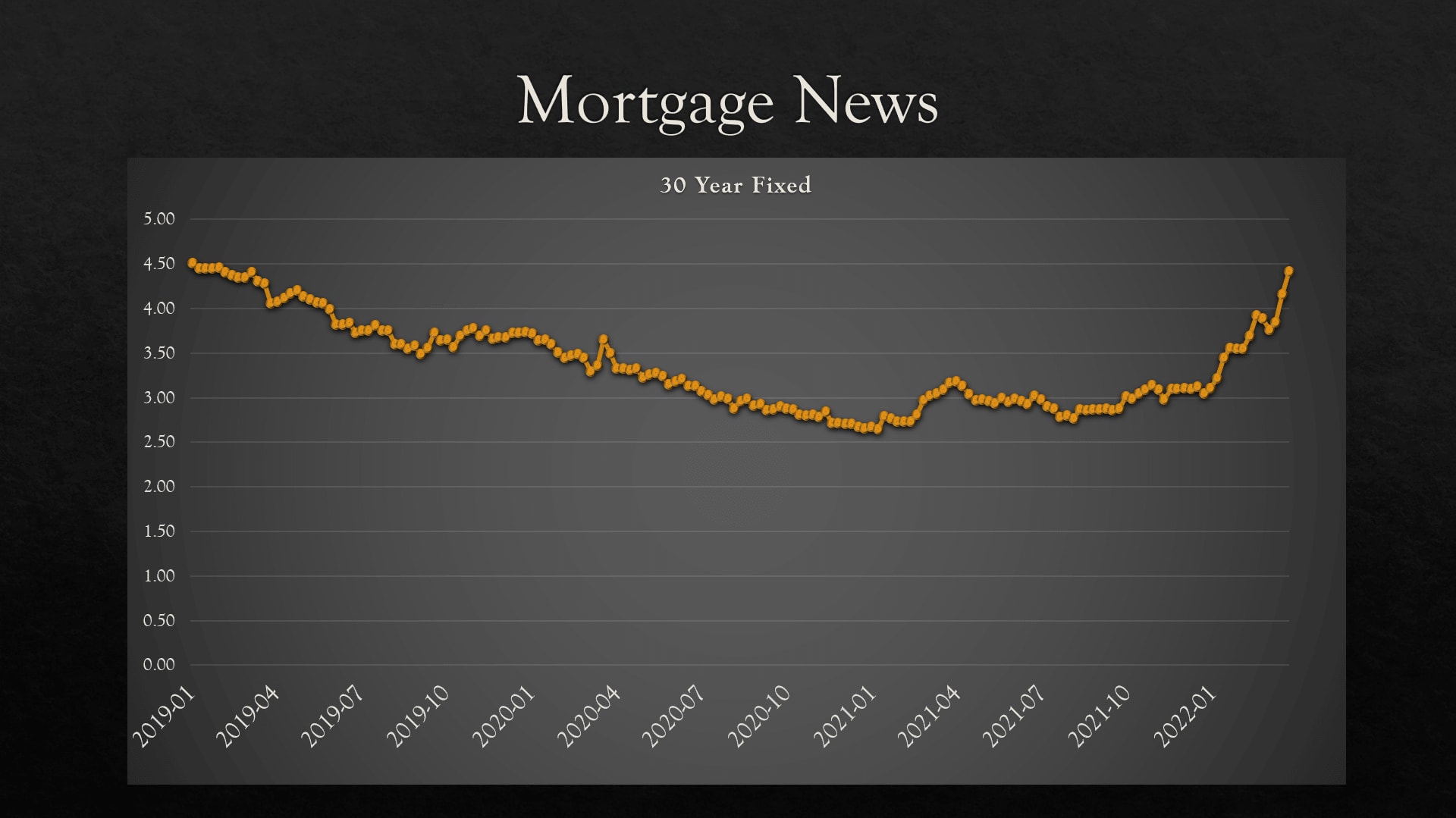 Condo Market
Due to the interest rates raising, we are going to be paying more attention to a few more metrics to watch for market shifts. I've added Back on Market, because if interest rates made buyers no longer qualify for their home, it will show here. Price increases, and Price Reductions are also added to the list because if there is a slowdown in buyer demand, price reductions are likely to increase. These three metrics will be important to understand as we move through this potential market shift.
This week we are seeing a leveling off of new listings with about the same listings as last week as we have about the same number of homes available this week as last week. New listings also came in at 48 in the under 1M segment and 73 in the over 1M segment, which was about the same as last week as well.
So far, no big changes in the "Back on market" metric but we did see 8 in the over 1M segment, which is 5 more than the previous week.
The DOM is also staying steady at 27 and 20 days respectively. New listing sales price to list price stayed steady in the under 1M segment and raised 2% to 109% in the over 1M segment. Keep in mind that this last metric is a bit delayed, as homes that closed this last week are ones that went into contract 2-3 weeks ago when interest rates were still in the low to mid 3's.
Single Family Home
In the single Family Home Market, we are seeing a similar situation, with about the same availability with 125 total homes under 2M and 45 new listings. The pending did go down slightly to 47 from 55 last week. However median DOM is remaining the same at under 2 weeks for both categories. No change reported in the Sale price of newly listed home to list price, at 110% and 124% respectively.
Luxury Home Market
In the luxury home market, Once again we are seeing little growth in either segment, with 30 homes in the 2-3M segment and 49 in the over 3M segment, which is down by 4. We did see 18 homes hit the market tough, which is slightly up from last week. Not much movement in the price increases or decreases, but pending's are noticeably down, with only 14 in the 2-3M and 7 in the over 3M segment, which is down 6 and 4 respectively. We will continue to track these values but since the pending are about equal to the new homes, we didn't see that much difference in availability.
Last the DOM remains at 12 days in both segments and the new listing sales price to list price remains at 126% above ask and 111% respectively.
Inventory Summary
In summary, looking at availability, new listings, and closed listings, we have been pretty steady all year, averaging around 180 new listings per month, with closed listings steadily increasing over the last few months.
Buyer Indicators
As mentioned, we will be following the Back on market and price reduction metrics to better understand any market shifts. There were only 53 price reductions last week which is not too much more than we have seen before, this will be one of the first indices to go up if the market starts to cool.