Mortgage rates continue to climb. As of this week, the interest rate surpassed 5% for a 30-year fixed mortgage! However, there are no noticeable signs that the market is cooling.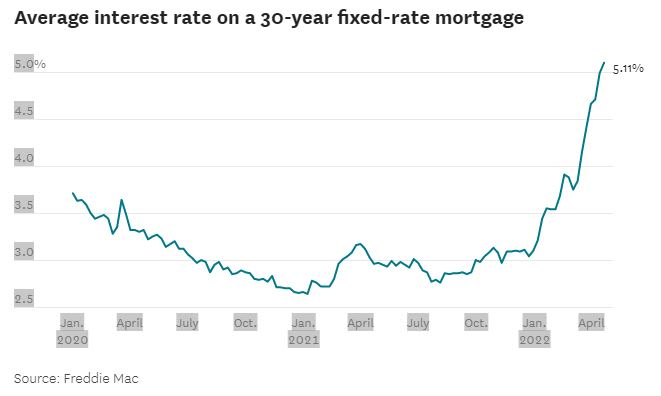 Despite rated being up from 3% at the start of the year, the Federal Reserve vows to continue to fight inflation and is making it more expensive to buy a home. Combined with the ever-rising prices, there has never been a more expensive time to buy.
However, experts I talked to say that the low inventory and willingness from high earners and the ultra-wealthy have been unswayed by the raising cost.
Daryl Fairweather, a prominent economist, said that there are some early signs that demand is slowing, but given how high it was, it appears that the market is still overrun with buyers and simply not enough sellers to quench the appetite for home-ownership. None of the decreases in demand has to lead to prices lowering, he mentioned. "You do have to kind of squint to see it," Fairweather said.
Patrick McCarran, a REALTOR president, said that there is indications of "slight cooling," and that homes that used to have 10 or more offers are only getting 5 or so.
The recent hesitation from buyers appears to stem from more buyer fatigue than mortgage rates raising, as more and more people are simply getting priced out of the market, according to Liz Bayer of ProMortgage.
One of the reasons why mortgage rates seem to have so little effect on the San Francisco market is the number of homebuyers paying in cash. In San Francisco around half of the transactions are cash from individuals that have significant assets in form of stock or cryptocurrency.
"On the demand side, it is that case that the middle class is getting squeezed most by the combination of inflation and higher interest rates," said Chris Mason, a mortgage broker. Bason still hasn't seen any noticeable drops for pre-approval requests over the past several months. "But, for the most part, in the major Bay Area markets, your median income family was never in a position to buy a house, anyways. That ship sailed five years ago."